My Top 5 healthy hair Tips i learned from my mom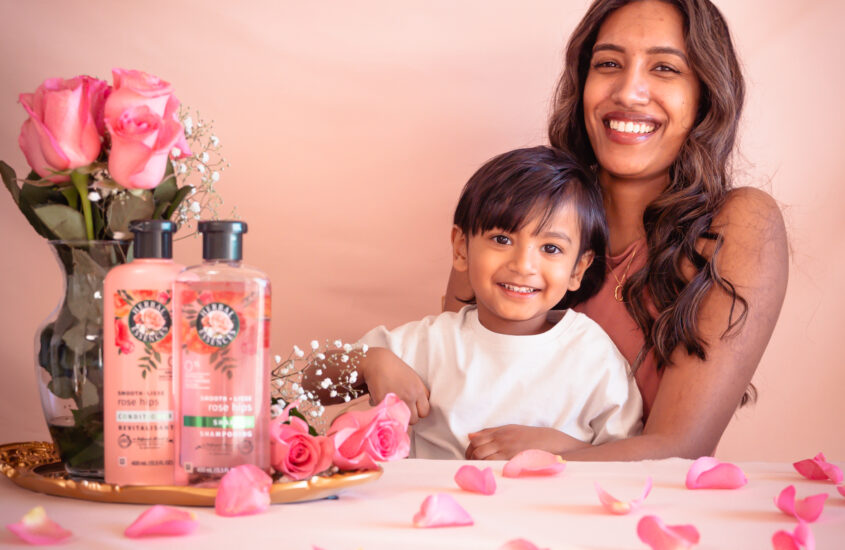 So, in my attempt to stay calm and collected over here, I've really amped up my self-care routine. As part of that, I recently visited my favourite hair salon and got some colour added to my hair! It felt SO GOOD!! When catching up with my mom (showing off my hair via Facetime)she reminded me that when you colour your hair, it can be super damaging and drying.
My mom has the most luscious hair I've ever seen in my life! While growing up she instilled self-care skills in me that I still use to this day. We'd have Sunday self-care days and call it our girls night. We'd fill up the tub, do a nice hair mask, take a long warm shower then binge watch our favourite movies. It's a memory that's instilled in my mind and will be there forever!
Mom was reminding me of the tips she taught me as a young girl and I realized taht I should be sharing this knowledge with everyone! So here the are:
Pick the right shampoo and conditioner.
I've been back to using the classic Herbal Essences Smooth Rose Hips Shampoo & Conditioner, which agrees with my hair- it leaves it so soft, silky and smooth! It's also now PETA cruelty-free, dermatologist tested, mineral-oil free and colour-safe- all the good stuff, without costing a fortune. The fragrance actually reminds me of my mom, funny enough. We both used this shampoo and conditioner in our younger days. I love the nostalgic effect that Herbal Essences has! The other day, my 2-year-old son, Zay came into the bathroom while I was showering and said "wow, mommy.. you smell good!" At that moment, I realized this fragrance might remind him of me when he's older. Cute right?
2. Use natural hair oils to mask your hair once a week. I use a combination of castor oil, olive oil and coconut oil. This way your hair retains moisture and also your scalp gets the love that it needs! My mom and I used to have a Sunday ritual back when we lived together and we would take turns applying the oil to our scalps then the rest of our hair. Wometimes we'd leave it in overnight and other times we would leave it in for 2-3 hours then wash it out.
3. Limit the use of heat in your hair. My mom taught me to braid my hair at night to achieve natural waves without using heat for the next day. I love how effortless this looks in the morning!
4. Be wary of the hair accessories that you use. I use silk scrunchies to avoid breaking and tugging on my hair too hard during the day. My mom also got me a silk pillowcase recently (so sweet of her) apparently this protects your hair while you sleep. Basically, don't use any hair ties that are rough and pull at your hair strands. I used to tie my hair up really tight and my mom used to tell me to stop. I noticed my hair around my temples breaking and it was not a fun time.
5. Consider looking into the right supplements to aid with your individual haircare journey. Right now, I am taking Biotin vitamins for extra strength and growth. I started trying this right after I experienced pretty severe postpartum hair loss. I lost chunks of my hair at a time so I invested time into figuring out where I went wrong and what I could do to grow back my hair.
@HerbalEssences #AD