Take A Peek Inside: Muncheez Creperie
Muncheez Creperie has got both Vith and I feeling the munchies for real. We got to visit them for a quick meal during the holidays, it was a good time!
All About the Food:
Ramen helped us out with choosing two crepes and drinks. I ordered the "Madagascar " Signature Crepe, which is filled with Falafel, Avocado, Sweet Corn, Green Peppers, Kosher Pickles, Black Beans, Lettuce, Havarti Cheese, Chipotle Sauce. It was savoury and down right amazing. It had a very Spanish vibe to it. Vith got to try the "Tap Out" Signature Crepe. This was filled with Pastrami ,Chicken Breast, Green Peppers, Mushrooms, Red Onions, Kosher Pickles, Arugula, Cheddar & Havarti Cheese, Garlic Aioli. It was also savoury and ended our spice craving. We were both incredibly stuffed at the end of our meals. It was a lot of food! Muncheez definitely does not cheap out on their ingredients. They are also Vegetarian friendly, which is wonderful.
Muncheez offers fresh Costa Rican Sugar Cane juice. So obviously, we had to try that. The sugar cane is imported every single Friday. I ordered the beverage with some Banana in it. "Divine" is an understatement. It kept my thirst quenched throughout the day. Vith got the original version of the sugar cane beverage. He loved the freshness of it.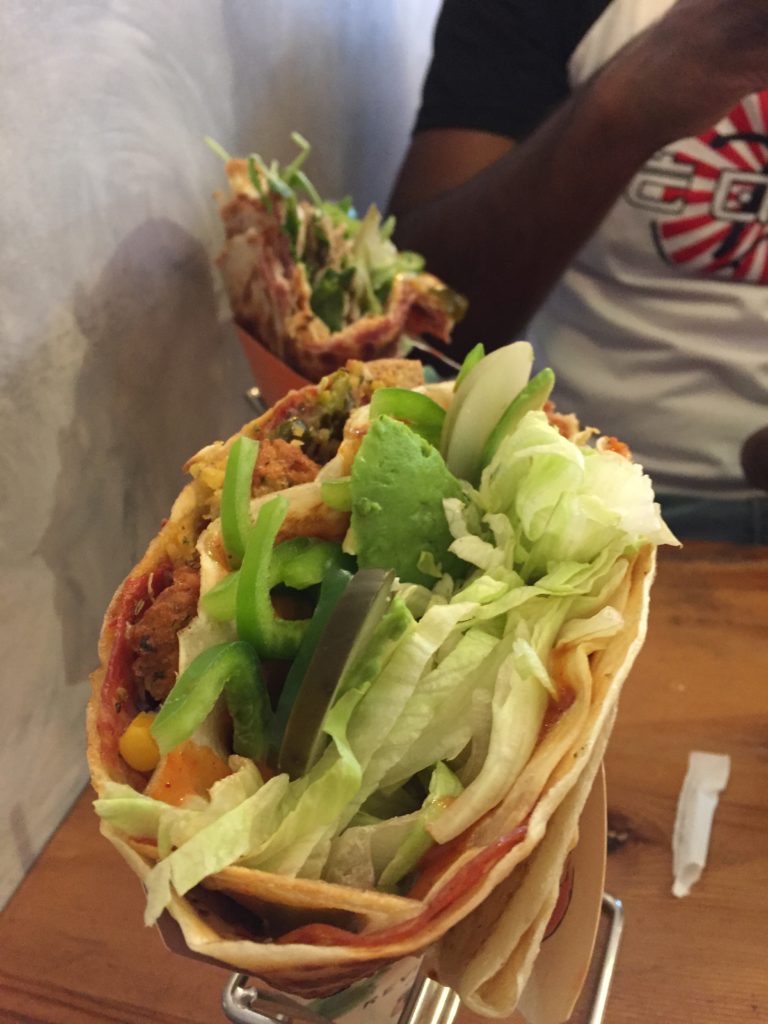 Price:
The meals are priced at an average range. The Crepes range from $5 to $13. It really depends on what you want in the crepes themselves. The sugar cane juice is around $6 and you can get Ethiopian coffee for $1.75.
Vibe & Service: 
The restaurant offers a very chill vibe. It's decorated very nicely as you can see in our video. We walked in to feel very welcomed by the employees of the restaurant. I don't know about you but service is number one to me, lol. I don't want to be walking into a restaurant and feel disregarded or disrespected, no matter how good the food is. This would be a good spot to hang out with friends, go on a quick date, grab a bite after the gym or study/work on your laptop.
Go give Muncheez Creperie a try. Trend Toronto recommends it. I was straight up hangry right before we went in. Vith was happy that Muncheez cured me, lol!Check out our video down below to get the first hand experience! We hope you liked the video and that it did its purpose of giving you guys a look at our experience. Let us know what you think.
Visit Or Contact Muncheez Creperie:
7181 YONGE ST. UNIT 21, MARKHAM, ON L3T 0C7
Phone number: (905) 597-1220
Hours: 11 am- 11 pm
To review your business or venture contact us at abinaa@trendfamily.ca.
Have a blessed New year! Keep smiling!!
XOXO,
Abs