First off, I was super excited to be receiving the IGK Voxbox from Influenster this month. This box was complimentary from Influenster for testing purposes. The IGK products were designed by three celebrity hairstylists who are based out of Miami, New York City and Los Angeles. These products are 100% cruelty free, so I am very happy to be a part of this campaign. First off, I love the lovely packaging of each one of the products. They are so creative, don't you think?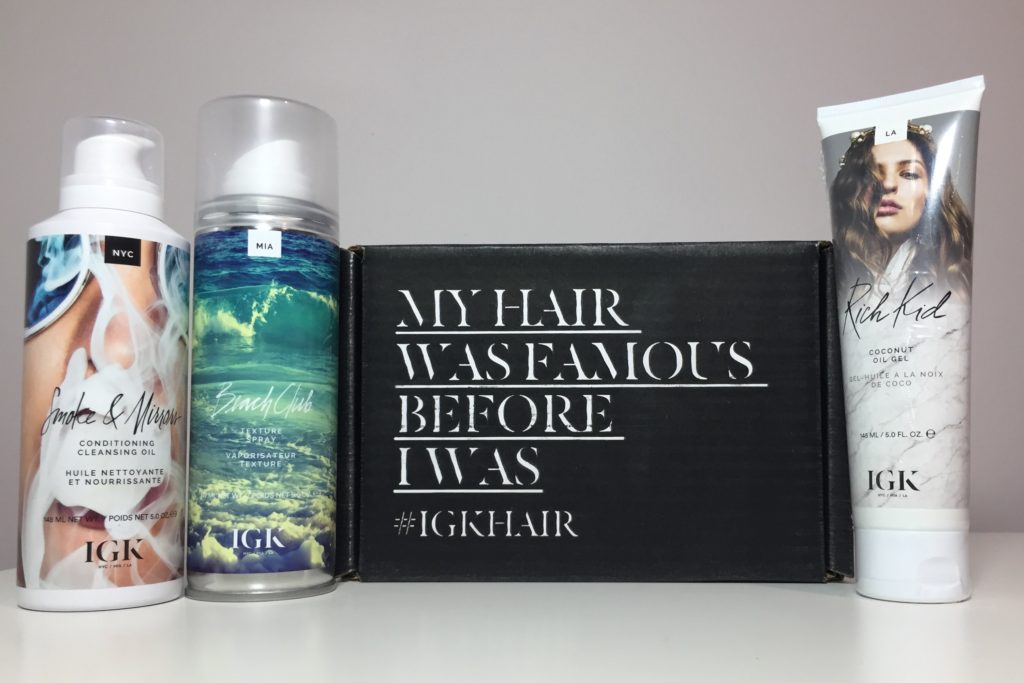 This product is made without the use of parabens and sulfates. So individuals with coloured hair, this is safe for your usage! This product, which is inspired by LA, is infused with coconut oil so that you can achieve that beautiful wet hair look. You can also put it in your hair when dry to achieve some beachy waves. What's great about it is the fact that it keeps your hair moisturized and healthy looking the whole day. I have and oily scalp and not once did I feel greasy. The smell is to die for. It smells like you're putting mimosas in your hair. I guess that's what they meant by "Rich Kid" eh? Let me know rich kids… do you put mimosas in your hair?
Smoke and Mirrors Cleansing Oil
This stuff is like magic. You hop into the shower, grab a dab and put it through your hair. It gives you clean hair! You don't need shampoo or conditioner. It does both! That's pretty awesome, if I do say so myself. The scent is inspired by New York City. Like it's name, the scent is on the musky/smoky side. If you like those kinds of scents you'd like it. I am not a huge fan of the scent but I do like what it does for my combination hair. It's great for people like me who are always on the go. You can literally wash your hair in a sink with this product.
This product is very multi purposeful. I used it in my hair to achieve a high ponytail with some volume. I literally took my hair out of the elastic but the volume was still there. You can use it on wet or dry hair. For men who want to achieve that Clark Kent air blown hair look, this is for you! Oh and for you long hair homies, spray this stuff in and you can achieve a tousled hair look.The smell is inspired by Miami. It smells like fresh fruit! I love fruity smells so this is right down my alley.
Check me out on Instagram to see the different looks I create with these bad boys!
Take care lovelies.
Xoxo,
Abs