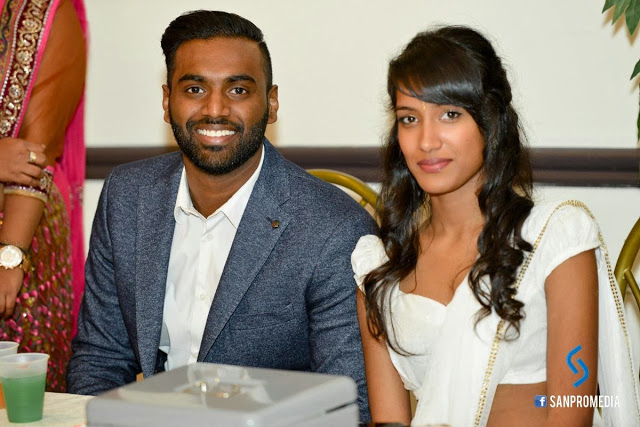 So I  experienced a little bit of a set back because the mother nature decided to go crazy and give us some freezing rain in Toronto. So my family and I went through a black out for a couple of days, so I have a valid excuse as to why this post wasn't up earlier! So we'll start off with Vith's outfit first. I got him this beautiful blazer from Zara as a an Christmas present.
He paired the blazer with a white dress shirt, dark jeans and some fly white kicks from Zara. This look was really fresh! He accessorized with his brown leather Michael Kors watch and brown Burberry belt. He styled his hair to the side and bam! A very crisp and clean look. As for my look, I decided to do all white (look guys we actually kinda matched this time :p).
I designed it myself and Vith helped me bring my vision to life. I got a shiny but simple gold border and lined the top and bottom of my skirt with it. I got my stitcher to sew half of the border to my shawl as well. The border was made out of material that had white sequins on it. I wore my mom's earrings which were made of gold and pearls and just wore simple pearl bracelets from Aldo on my arm. I styled my hair with the 3/4″ Conair curler that I always use! I also wore individual falsies which were by Ardel (Target).I wore all white heels and used the first Naked palette for my eye make up. Lastly, I wore my melon blush from Sonia Kashuk , lined my lips with Anabelle's Teracotta and also wore my new nude lipstick from Sonia Kashuk as well (Target)! Shout outs to San pro Media for the great pictures. Check them out on twitter @sanpromedia.
Hope you have a very merry Christmas! Thank you for all your support, we really appreciate it. Hope you like this post and if you have any comments or questions, hit that "Contact Us" tab.
Cheers,
Abs